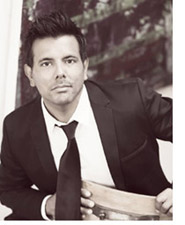 Born in Lima, Peru, Victor-Raul Garcia was raised by his maternal grandmother with whom he immigrated to the United States at age 8. His autodidactic work is the result of a relentless passion to create, an innate resourcefulness and curiosity, endless days of trial and error, and an all-encompassing necessity to communicate through art.
His work has been described as a subtle romance between Cubism, Abstract Expressionism and Brutalism. He draws inspiration from visual stimuli that have a collective respect for the value of color, depth, texture, motion and architecture. These elements he combines and intertwines into a narrative through the multi-layering process he is famous for.
"Layers are the distinction between past and present, old and new, buried and rediscovered. The process I use in my work I call 'art archaeology' since I am stripping away layers to unravel a hidden mystery or putting on layers to add mystery to what's hidden. I believe we all have a physicality, a personality and an essence, which is what I hope to portray in each piece."

Victor-Raul has been the featured artist at Lanyon 36 Gallery (NYC), Michael Dawkins Home (NYC), Boswell Mourot Fine Art Gallery (Little Rock, Arkansas), and Katie Gingrass Gallery (Milwaukee, Wisconsin). His work has appeared in Hyland Magazine, Domino Magazine, New York Spaces Magazine, and many others. He divides his time between studios in New York City and upstate New York.